Dellows is proud to be accredited with Fidelity Life.
Dellows has access to all Fidelity Life insurance products, Dellows will continue to ensure our clients are financially protected and look for the best options on your behalf.
Fidelity Life was named by industry body ANZIIF as New Zealand's Life Insurance Company of the Year for three years running – 2017, 2018 and 2019 – endorsing the commitment to putting customers at the centre of everything they do.
Fidelity Life offers
https://www.fidelitylife.co.nz/funeral-cover/
" target="_blank">"Golden Life" policies available up to age 79 with no proof of good health required. Funeral cover options are available at flat rates with premium refunds in the event of the policy not being paid out. 
Please contact our office should you wish to discuss your familys financial protection plan. 


One of the key benefits clients get from talking with professional advisers is knowing that you have checked the market, and that you use independent research to inform your advice process.
Dellows utilises Quotemonster and Quality Product Research Limited. This enables us to prepare detailed comparison and investigative reports for our clients on insurance products to suit our clients needs, saving the hassle of calling different companies and trying to make comparisons which are confusing and difficult to understand at the best of times. It also reassures clients and adds value to the work of an adviser who can compare policies and look at re-insurance and provide explanations to ensure the package suits the clients needs.
Please contact James Dellow for a no obligation free review of your personal life, income, and health insurances.


Dellows Financial Mid Year Checklist:
1. Financial Snap-shot
It's a good idea to check in on your financial figures. The easiest way to do this is by looking at your business profit and loss report, and analysing your net worth: your assets (what you own) minus your debt (what you owe). This gives you a snapshot of how you're doing financially and it helps you decide where to focus your efforts. For example, should you purchase another property, or do you need to increase earnings.
2. Adjust your goals
The great thing about goals is they give us direction. It's a good idea to review your financial goals regularly. If you set goals for yourself back in January, do they still make sense? If un-attainable can your goals be split into more manageable objectives over this and next year? If you have already accomplished your goals - should your focus be on a new goal or was your plan to enjoy the victory for a certain period of time.
3. Check-in on your budget
Hopefully, you have a budget. Maybe you don't track your spending meticulously, but you know how much you can spend and how much you aim to save. Take a moment this mid-year to check in on that budget. Are there places where you're overspending? Have you gotten into some less-than-desirable spending habits that you want to break? There are various budgeting apps available. Should you feel help is needed engage someone straight away, what you do with money is far more important than how much you have.
4. Plan for summer spending
Summer is social time with Christmas, New Years, and holidays. There is always something to do, somewhere to go, and someone to meet. But all of this summer fun can leave your bank account feeling drained. Embrace trade-offs — if you know you're going to be spending a little extra on things you don't regularly do, find some places to cut back so it evens out. Cutting back on bills may help over the summer period, this can be as easy as suspending subscriptions: computer software, games, movies; making your lunch, and negotiating payment holidays. Planning early and saving the balance of usual regular payments into a non-break savings account may allow for a large balance of funds to be built up and available for holiday spending.
5. Check in on your kiwisaver contributions
It is very important to plan in advance for retirement, while a home and some investments are great, cash is required also. If you don't make kiwisaver contributions each year sufficient to obtain the maximum government contribution, you can't make up for it with additional contributions the next year. Since kiwisaver comes with great employer and government contributions, and tax benefits, it's pretty important to prioritise planning of your kiwisaver to ensure you are maximising your savings for retirement.
6. Research your pricing
Mid-year is the perfect time to start looking at what competitors are doing and bench-marking your prices. If earning more money was part of your financial plan this year, it's better to ensure your pricing is right earlier, rather than later. If there are reasons your pricing is low issues should be addressed as soon as possible. If it appears your pricing is low then a plan should be made to increase to pricing as soon as possible.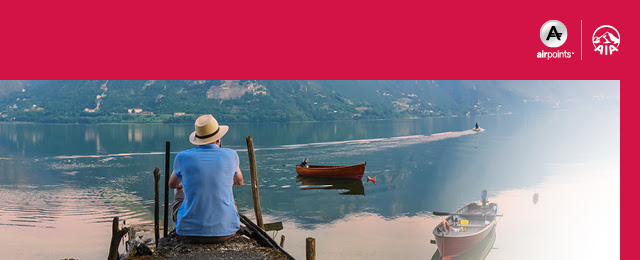 AIA strive to help our customers live healthier, longer, better lives by encouraging them to make positive lifestyle changes one small step at a time.
AIA's partnership with the AirpointsTM programme delivers great additional value to customers with Airpoints at no cost to them.
New policy offer: Your customers can earn 5x Airpoints DollarsTM for every $100 premium paid for 3 months, on new eligible policies applied for between 16 October 2019 and 29 February 2020.
Terms and conditions apply.
Kiwisaver Time
If you are a member of a KiwiSaver scheme or a complying fund you're eligible for the Government contribution, provided:
you're 18 or over
not elegible to withdraw your savings, and
mainly reside in New Zealand
The Government will pay 50 cents for every dollar of member contributions up to a maximum payment of $521.43. This means that you must contribute $1,043 annually (before 30 June) to qualify for the maximum payment of $521.
Kiwisaver year end is 30 June 2019.
First Home Owners
You may be able to withdraw some of your KiwiSaver savings to put towards purchasing your first home.
You must have been a KiwiSaver member for three or more years. You can not withdraw funds for an investment property.
If you have owned a home before, in some circumstances you may still be eligible to withdraw your savings. Your scheme provider may require you to contact Housing New Zealand to determine if you're in the same financial position as a first home buyer.
In addition to withdrawal of funds, after 3 years of contributing to KiwiSaver, you may be entitled to a KiwiSaver HomeStart grant. The grants are administered by Housing New Zealand and will be paid directly to your solicitor.
HomeStart grants available are:
For purchasing an existing home, the grant is between $3,000 and $5,000 based on $1,000 each year of KiwiSaver membership.
For building or purchasing a new home, or for purchasing land to build a new home on, the grant is, in effect doubled to, $2,000 per year of membership in the scheme, up to a maximum of $10,000 for five years for each member.
To be eligible for a KiwiSaver HomeStart grant you must:
-have been contributing the required minimum amount to KiwiSaver for at least three years
-be 18 years or over
-be purchasing or building your first home
-have a household income (before tax) of less than $85,000 per year (for one person), or less than $130,000 per year (for two or more people)
-have a deposit that is 10% or more of the purchase price, including the addition of the grant
-be planning to live in the house for at least 6 months from the settlement/completion of the property.
Self Employed
KiwiSaver is very flexible if you're self-employed. You're not required to contribute a set percentage of your pay.
You can either:
-make lump sum payments when you choose, or
-set up regular payments.
If you're self-employed you can enjoy all the benefits of KiwiSaver except the employer contributions. When you join, if you're eligible:
-the Government will pay an annual member tax credit.
-you'll be able to take advantage of the first home buyer's benefits.
Employer contributions for shareholder employees who pay themselves on PAYE are tax deductible, however please keep in mind ESCT taxes are deducted from employer contributions before funds are added to the employees fund. Overall there are no tax advantages for shareholder employees in making employer contributions to themselves.
Withdrawal on Retirement
You become eligible to withdraw all your savings as a lump sum when you qualify for NZ Super (currently at the age of 65), as long as you've been a KiwiSaver member for a minimum of 5 years.
Any withdrawals from your KiwiSaver account are tax-free.
Talking with your bank or an investment adviser is worthwhile before making withdrawals, "open-PIEs" and "Managed Funds" may be preferable options.